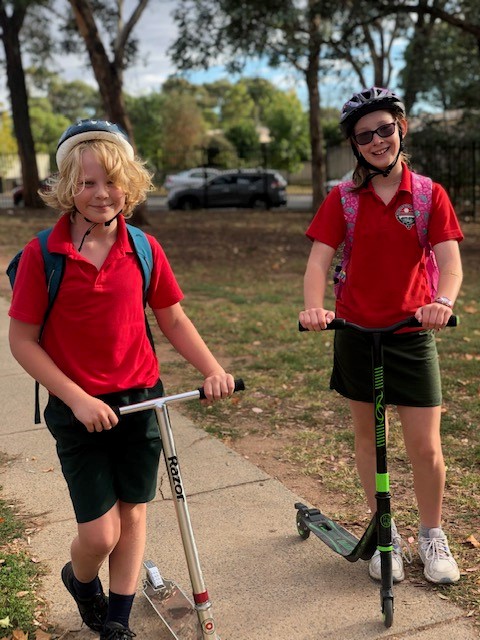 Macgregor Primary School provides a welcoming, safe and nurturing environment which supports children to excel as learners. In partnership with parents and carers, we strive to build our school as a community of learners who treat each other with respect and kindness. The strong link between wellbeing and learning outcomes guides our school practices. In 2021, we enter our fifth year of PBL implementation.
In 2021 we have four learning support groups and 28 mainstream classes. 35% of our students speak English as an Additional Language or Dialect and 7% of our students identify as Aboriginal or Torres Strait Islander. We have a range of children with differing abilities and celebrate diversity.
All our teachers have tertiary teaching qualifications and are registered with the ACT Teacher Quality Institute. In addition, many teachers have post graduate specialist qualifications or industry experience in a range of learning areas including early childhood, science, ICT, graphic design, arts, physical education, teacher librarianship, languages, inclusion, youth work, healthcare, history and language arts. All our staff members have current Working With Vulnerable People cards. We support high quality learning programs for all our children.
Our strong P&C Association work in partnership with the school staff and provide outstanding opportunities for the children including a Preschool to Year 6 OSHC business and school canteen.
Macgregor Primary School has worked hard to achieve a high level of consistency in teaching practice, student wellbeing and behaviour support across the school - including relief teaching staff. This level of consistency is resulting in a learning environment that is calm, orderly and highly productive. Team teaching ensures that even occasional relief staff members understand what to teach, and how to teach it, with little disruption to the sequence of learning.
Macgregor's vision in this area is outstanding. Members of our community and visitors can 'feel' the positive and learning school culture. A range of children have excelled in their ability to self-regulate and consequently engage in learning.
Uniform Code
Our uniform colours are based on the traditional Scottish colours of red and green with white and black trim.
Facilities
The contemporary classroom structures, library design representing a new era in libraries, innovative professional learning community infrastructure, ICT and STEAM accessibility, designer library, hall, art room, fully fenced playgrounds and the kitchen garden (inclusive of our environment education/kitchen facility) provide the children and community with outstanding opportunities in a contemporary and vibrant learning environment.
The primary school was repainted in December 2019 and preschool in 2020, with significant improvements in landscaping, outdoor play spaces, classroom furniture, library literature collection and maintenance also occurring.
Our School Plan identifies three goals as part of an explicit improvement agenda; Literacy, Numeracy and Wellbeing and we embrace the Aboriginal and Torres Strait Islander perspective in the Australian Curriculum as a centre point of our curriculum focus. We ensure that 'all young Australians will be given the opportunity to gain a deeper appreciation and understanding of Aboriginal and Torres Strait Islander 'histories and cultures, their significance for Australia and the impact these have had, and continue to have, on the world.' (Australian Curriculum)